Speak to your audience in their language about what's in their heart.
- Jonathan Lister
CONSUMER & SHOPPER INSIGHTS
Do you know how she feels on every step of her journey?
She is sad, tired, or even angry when she craves your brand of chocolate. When buys it, she used to feel relief, but since you changed your recipe, she feels in-control and zen-like. Last Valentine's Day she got a pair of earrings in a little purple box that made her exuberant - but this year's necklace box elicited suspicion. Could you have predicted the sense of joy and safety that causes her to linger for longer in her favourite music store? Can you detect the anxiety and defensiveness that the entrance to the emergency department makes her feel? Could you have foreseen how this usually progressive soul put an X beside the conservative candidate at the last election?

We admire businesses that want to improve the lives of people, as evidenced by how they feel. We believe that businesses that understand the emotions of their consumers thrive by humanizing their industries. They speak to her heart, and she responds.
Humans are open-ended
We uncover the insights that can't be found in scores, scales or pie charts. We reveal deep emotional stories that traditional research misses. We make it easy (and fun) to measure emotions from open-ended survey questions and qualitative transcripts. Unlike manual analysis of consumer commentary, which can take hundreds of hours and yield inconsistent data, Heartbeat AI quickly outputs reliable insights about your customer's true feelings.
Her Emotional Journey with Chocolate (Canada)
Women & Chocolate Moments (Canada)
Reviews Analytics for Men's Skin Care Products (UK)
Brand Personality: iPhone vs. Samsung (US)
How do they feel about this packaging? (UK)
The Future of Emotinally Intelligent AI
How Canadians feel about AI
The Neuroscience of Shopper Marketing
Our team would love to support you and together uncover consistent and accurate emotional insights for:
Ad pre-testing

Customer satisfaction and NPS surveys

Brand tracking and brand equity studies

Shopper & consumer journey

A/B testing

Segmentation and U&A's

Early stage creative development & ideation

New product development, prototyping and pre-testing

Text analytics for qualitative interview transcripts

Product Reviews analytics (fully automated scraping of reviews and on-going analytics; Amazon, Reddit, Google Play)
Simple steps from data to insight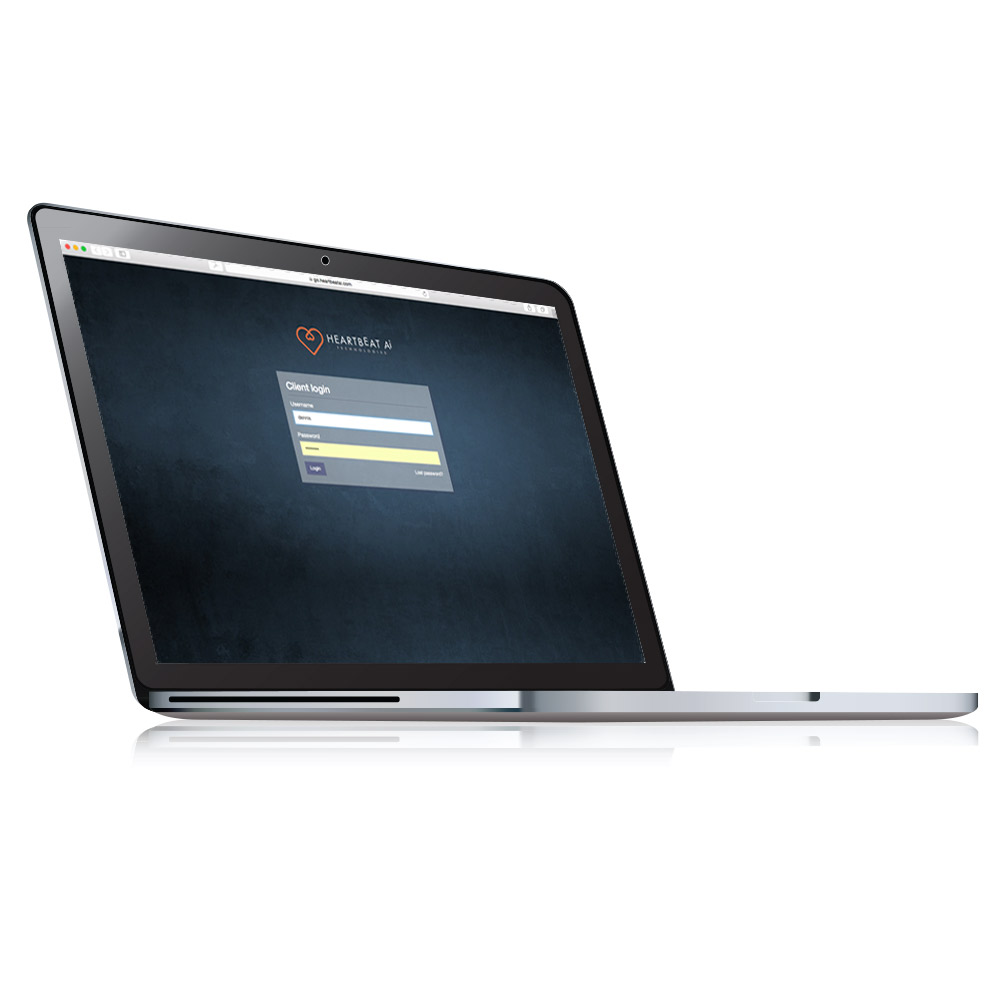 Our platform facilitates a journey from a raw data upload to a rich dynamic dashboard with an optional CSV data append in just minutes. We can train your team to use our self-serve platform, or we can do it all for you: from data collection to uncovering insights to tell a story.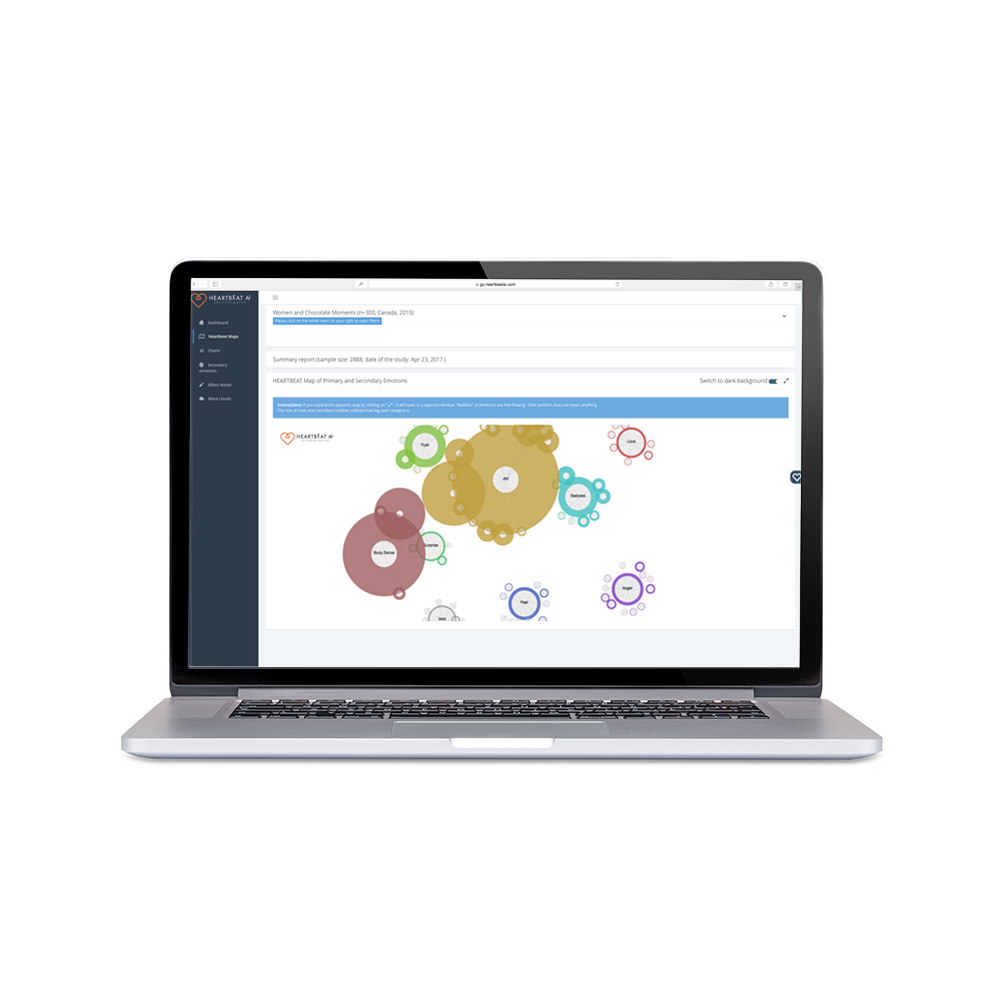 Heartbeat Maps represent the complexity of human emotions: rich, colourful and always moving - check out for yourself!
Easy to understand, regardless of context
Primary emotions are easy to understand because they are universal to all human beings.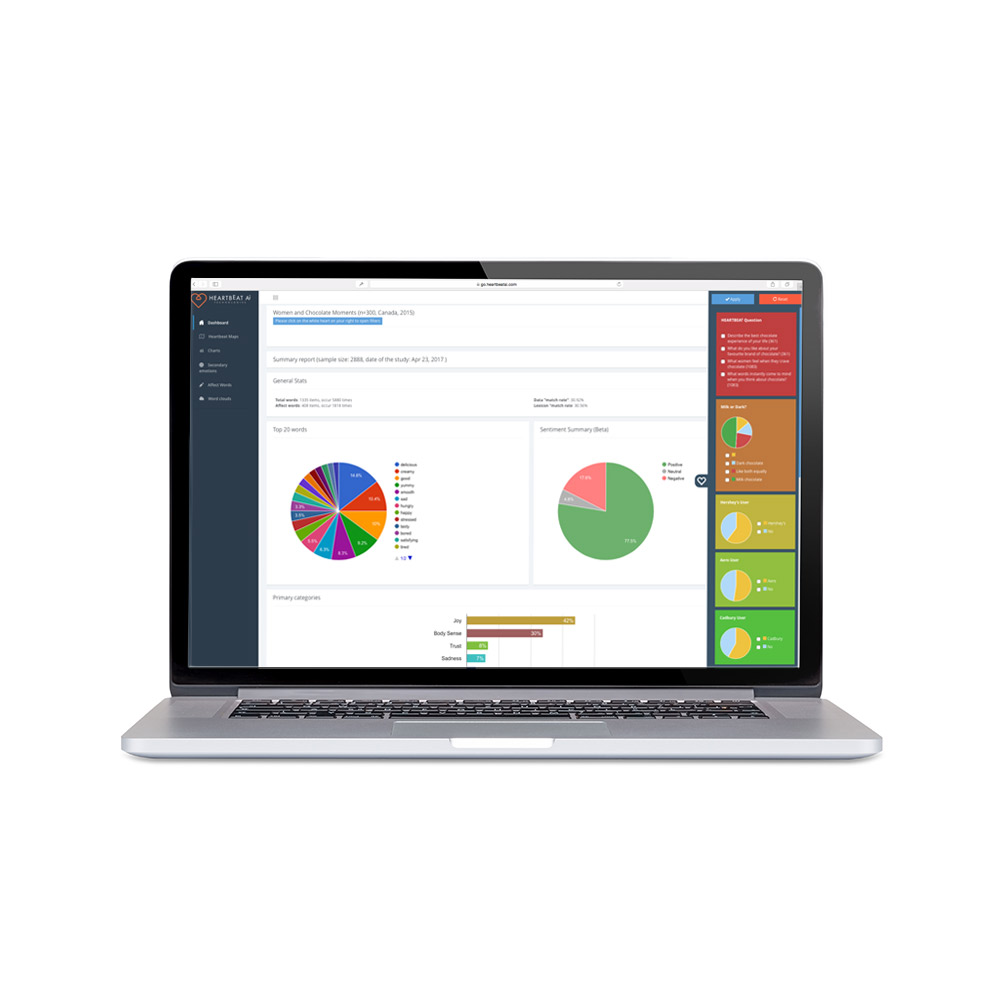 A topline dashboard includes top words and phrases, sentiment summary, a primary emotion chart and top secondary emotions. Each section can be filtered by metadata, such as demographics.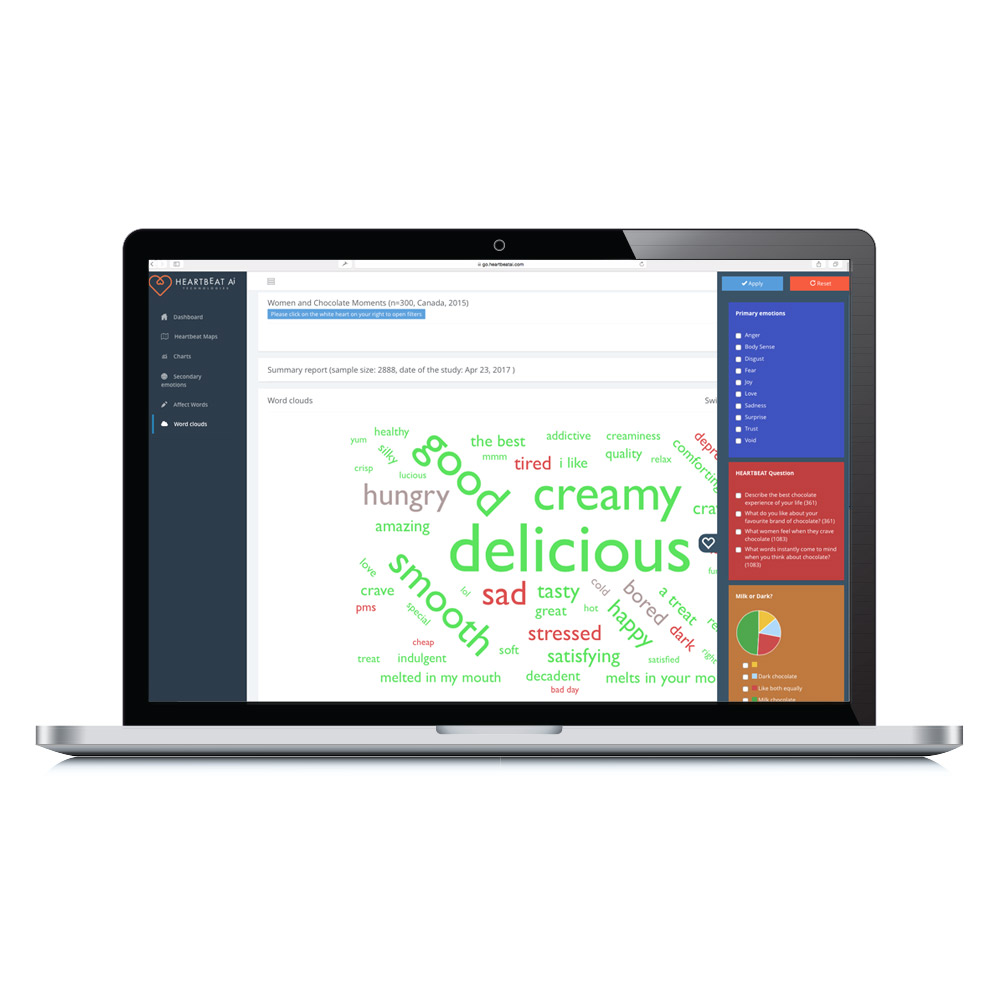 Not your usual word cloud
Word clouds include only emotion words and phrases. You can filter by primary emotions (for example, Joy, Trust, Fear) or metadata (for example, gender, country).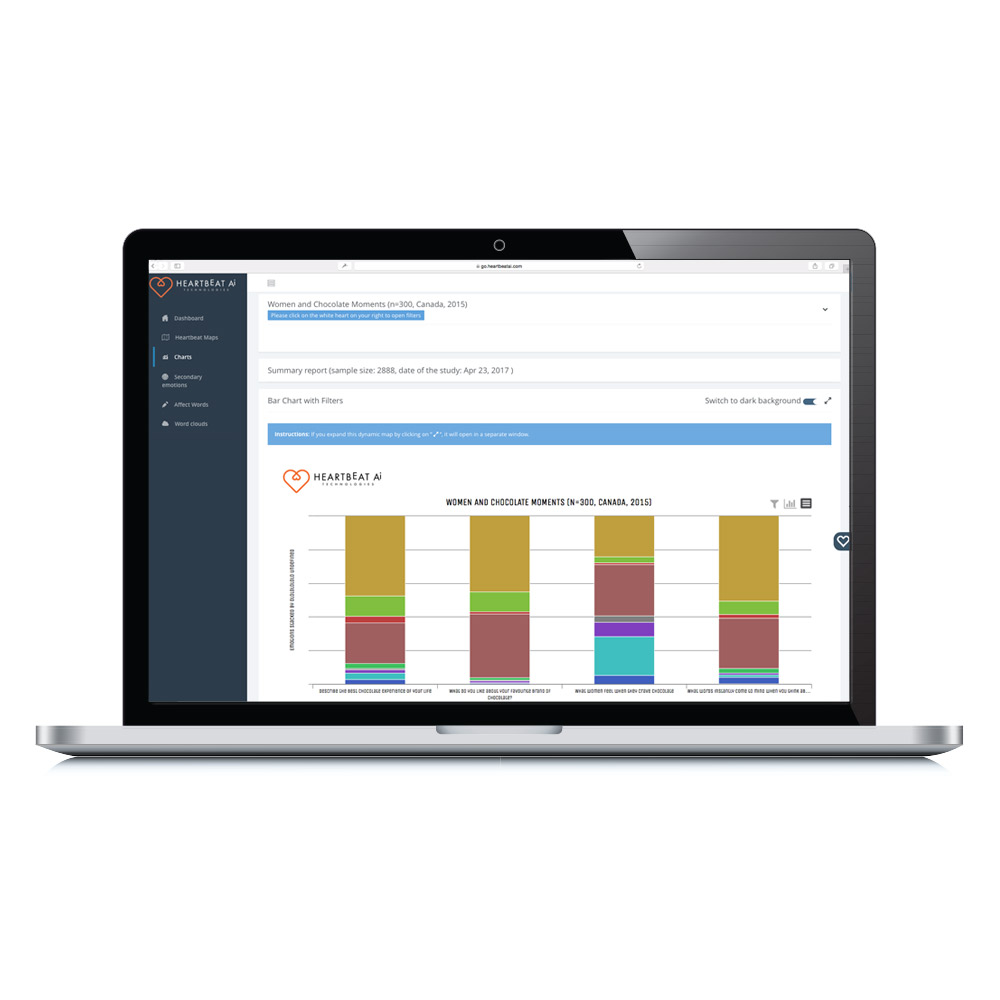 Chart the emotional journey of your customer
Summary charts show differences between questions or demographic groups. For example, this report shows a dramatic difference between emotions that women feel when craving chocolate (sadness and anger) compared to eating their favourite chocolate (joy and pleasure). Check it out for yourself.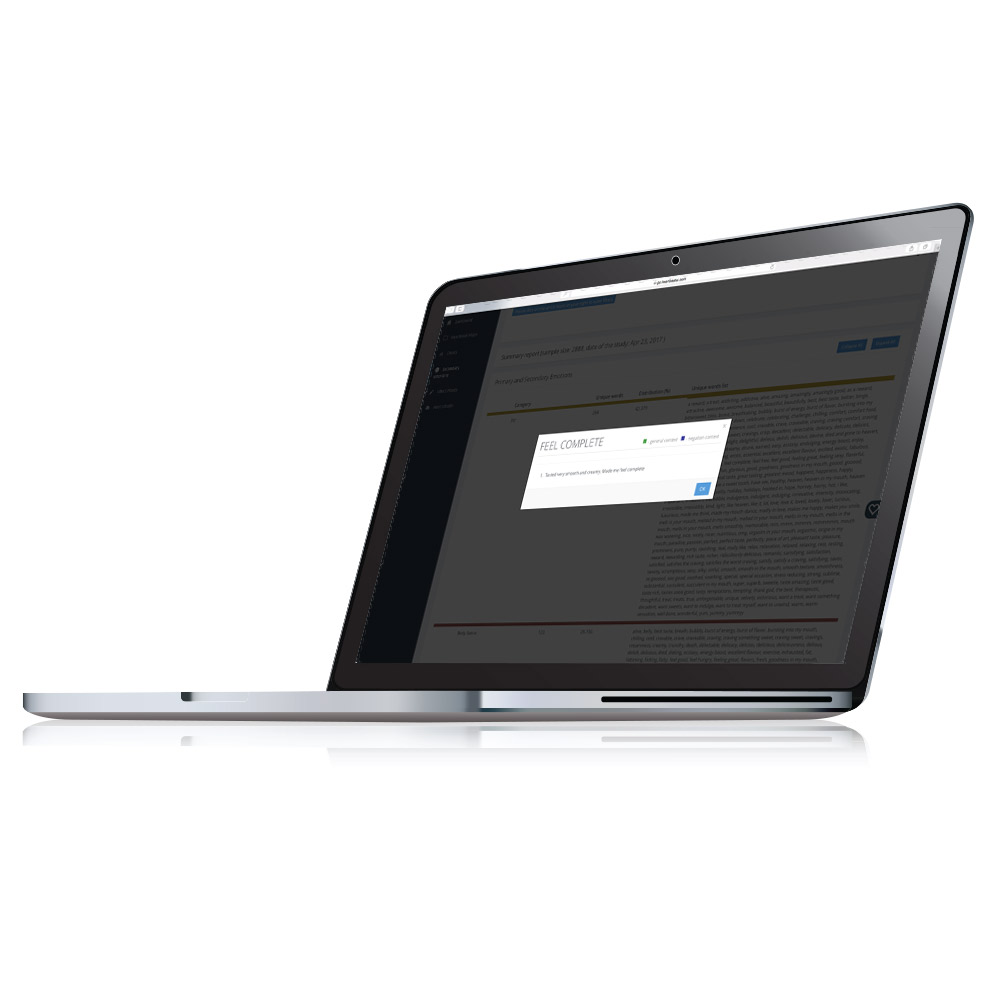 It's a transparent tool with drill-downs and verbatim word usage for each primary emotion. You can see exactly what words were categorized and the exact phrases these words came from.
Please book a demo & discovery session with Dennis.